New pattern idea.
So I've got this friend, let's call her "Tessima" to protect her anonymity, who was getting on my case about using too much chunky and bulky and other "fat" synonym yarns. I wanted to make "Tessima" something, but the thing I had wanted to make her was a scarf out of Brown Sheep Burly Spun in Strawberry. See, there's that word "burly" so I didn't think it was going to fly. Her loss, because man, it was lookin' cute. So, I thought, well, I've got the pattern for the reverse bloom flower washcloth, and this "Tessima" tends to like bath products. Gee, I hope that didn't out her. I happen to have two skeins of soft, fuzzy Crystal Palace cotton chenille in red and blue, so that seemed ideal. It's soft and cushy and absorbent.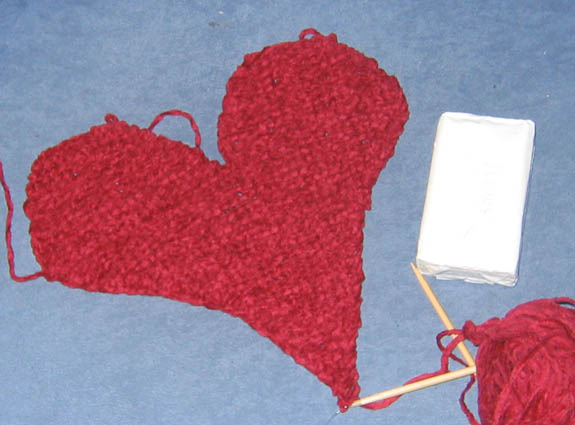 So I worked up one petal, then looked at it and thought, "hmm. This gives me an idea." So I made up this heart washcloth. (That's a bar of Ivory next to it for scale.)
There's room for improvement in the pattern. It looks kinda neat and knits up quick, but I think it'd look better smaller and rounder, and without so much flaring out on the inside of the bifurcation of the heart. I also don't want the lobes flapping around and smacking someone in the face. If I can get this perfected, this might be something I could sell fairly cheaply.
Whatcha think? Suggestions, comments?