Baby baby baby!
The last hat was too big, so I'd be damned if I was going to make that same mistake again, and I hate sending things to people that aren't quite right. The things not being quite right, not the people not being quite right. Most of my friends are "not quite right" if you know what I mean.
Bah. I make no sense. Where's my coffee?
(slurp)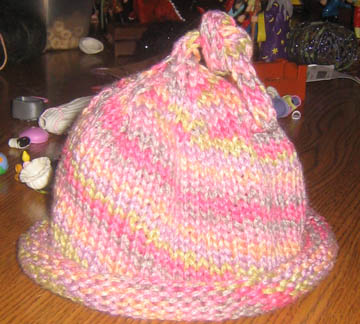 Ahhh, that's better. So, using some more of the Noro Lily, here's a little knot hat sized to fit newborn to about three months. The colors are more pastel than they appear in that photo. It was fortunate how the Lily made lovely swirls up the fabric. I'm very pleased.
I think this colorway of the Lily may be discontinued, so I'm considering going back to my local yarn shop to snap up another skein. This was a quick and easy knit, and I'd happily do it again for any future babies.