more booties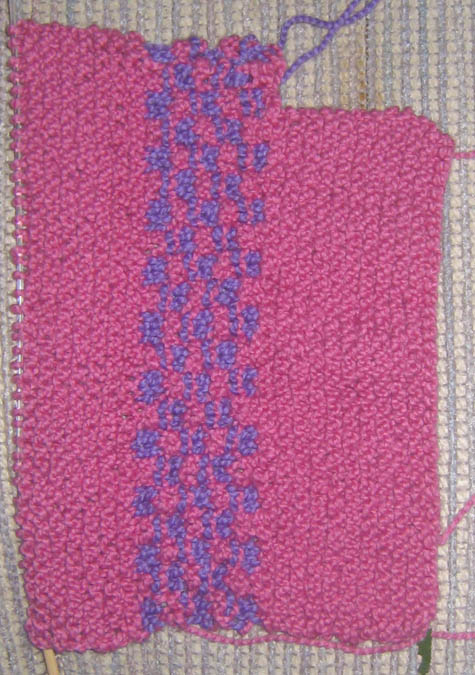 Yet another friend is having a baby. This friend was a bridesmaid in my wedding, so whatever I make for her, it HAS to be right. So far I started this, which, making the 12 month size, was way too big. (That's from the Haiku pattern in Knitty, by the way, and is just too cute for words.) I'm not going to frog it, but will finish it as other projects allow. I'm already halfway around the body and it's a perfectly good project.
Then I decided to make some felted booties, and thought that I'd do them from a nice high-end yarn. I picked Naturwolle, which is handspun by a woman in Black Forest in Germany. Nice stuff, which it ought to be for the price. We even have a brand new yarn store in town that carries it, and other super-ritzy mildly overpriced yarns, so I picked some up. Unfortunately, the store's lighting isn't that hot, and apparently my EYES aren't that hot either, and I didn't realize just how much of this wasn't pink. Morever, I didn't perceive the green at all until I had knit it up.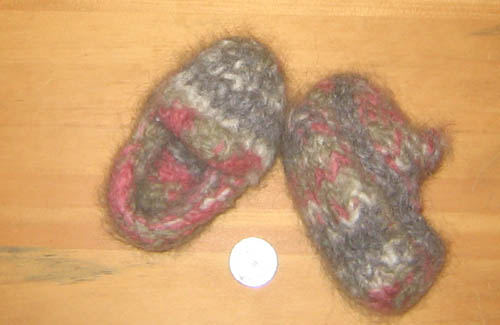 I knitted up these booties and then felted them down into these. That shiny thing is a quarter for scale. Now, these are pretty cute little moccasins, and I think every baby needs a pair of earthy little shoes to lounge around in, but whatever I make for my friend has to be pink. This was made known in no uncertain terms. Pink. These aren't quite what they're looking for, I feel sure.
So now I get to drop back and do something else. This time, I'm just lettin' go of all the fanciness and making a nice hat and bootie set in "Victorian Pink" Lamb's Pride Bulky. It's about $6.50 a skein as opposed to $22 for the Naturwolle. I figure I can do little felted flowers on the front of the booties and it'll be a nice touch.
The baby shower is Sunday. Wish me luck.