Oops.
I can't believe I scheduled a Dragonrealms event during Heroes last night. I just completely forgot it was on. Fortunately, it's available for download, but I always prefer to watch these things on TV. Well, the DR event was certainly fun, so I'll say it was worth it.
Emily has been bringing me her doll periodically over the last few days and reminding me that she needs clothes, which I am working on. Last night she revealed that she can neither play with nor name this doll until she has clothes. I guess she needs to know the doll's fashion sense before she can determine the name.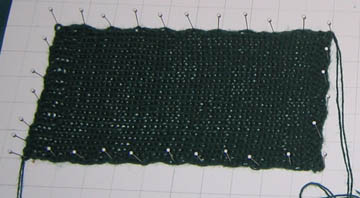 I've made two pieces for the pants. They'll be seamed up most of the length to make two tubes, then joined near the top to make the seat and waist. The pattern calls for some elastic to be sewn in. The ribbing at the top is working fine for the panties the doll's got, so we'll see if the elastic is necessary for the pants. The yarn is the same brand as the doll, Dale Baby Ull, but held doubled. These will be some thick pants.
I started to seam it up last night, but it wasn't as neat as I would like. I have a larger project coming up that will require seaming, so I decided to use these clothes as practice, and go ahead and block the pieces and do it properly. So now they're wetted and pinned and waiting to dry.
I'm going to use the time to finish up a project for the grandchild of someone I know. It's been 80% finished for more than a week, there's no reason to let it languish.
Besides – I've got Heroes to watch!