Go, go gadget capitalism!
Not because I'm trying to be grabby, but more to remind myself of things I actually want when I have disposable income, it's time for another installment of…
Ye Olde Amazon Wishlist. This is fairly self-explanatory.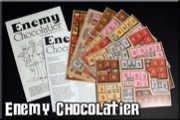 Enemy Chocolatier. A board game revolving around chocolate. And as we all know, chocolate makes anything better.



Big shampoo. This stuff is some majorly freaky feeling glop, but it makes my hair look great.



Knit rings, size 8. Too expensive, but I love 'em. I'll get one for myself one day.



"Wash Is My Co-Pilot" license plate frame Because I'm just that geeky. Similarly…




Fruity Oaty Mug. Because I'd sing that song every time I used it.



Wonder Wonder Grownup Underoos, size L or XL. Yes, I will hum the theme and spin around the room. No, I will not upload the video to YouTube.



Yarn dyeing kit from Hello Yarn. I enjoyed the Merike Saarniit workshop and the dyeing I've done on my own. More professional tools would be good to have. And how thoughtful is she to include the dust mask?


I know I'm forgetting things, but there you have it. 🙂