Kid stuff.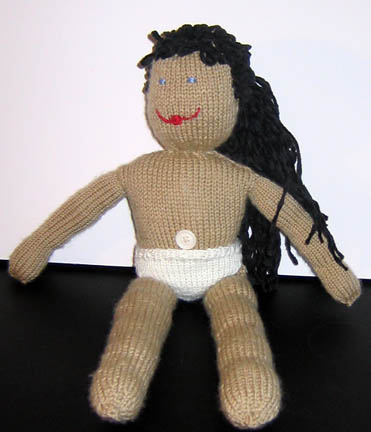 Well, Emily's doll is no longer NSFW. I firmed up the neck some, too. Upon seeing her clothed doll, Emily quickly reminded me that she still needs a red shirt and green pants, so clearly she's still very interested in it. She loves the hair in particular. The pattern calls for worsted weight yarn for the pants and shirt. I've only got much thinner yarn, but it looks like it will double up to the correct size. I'll outfit her as as time allows – I don't want to fall behind on the Jayne hats. Mid-December orders are in production now.
We had Brownies last night. This was a good meeting for me because I didn't have to do anything. Well, that's not really true. The girls were making name tags, and I spent the afternoon cutting large sheets of foam into appropriately sized rectangles. By the way, a cutting mat and rotary blade meant for fabric work GREAT for this. Goes through the foam easier than cutting a pizza.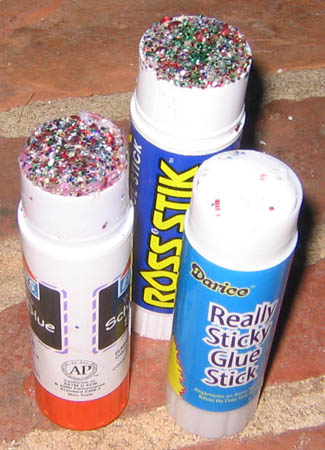 I also brought the leftover glitter from last meeting's hand-washing activity. We used most of it up. Well, when I say "we used most of it up" I mean that we used some of it, and an equal amount got spilled on the table and floor. Note the glue sticks. The one at far right of the pic is how they normally look. The ones at left have been to used to make name tags, then they apparently visited Mardi Gras. Girl Scouts always leave a place cleaner than they found it, but it was only through Herculean effort that we got most of the glitter cleaned up. It was like a grisly crime scene where Tinkerbell was the victim. I almost got much neater glitter glue (glue with the glitter already embedded in it that rolls on rather than pouring) at Michael's, but decided it was too expensive. When you factor in cleanup time, though, it would have worked out about even.
Because I had to stay until we were all cleaned up, we didn't leave until after 7:30. Emily's normal bedtime is around 7, and she's got math testing today. Let's hope that all works out okay. I also didn't get to the stitch-in at Books-A-Million until well after 9pm, so I'm running a little low on energy myself today. Fortunately, I saved last night's coffee. It's about to go in the microwave, then I'm ready to face the day!
Also, Girl Scout cookie sales are now on. Time to get a little Thin Mint action! Woo!