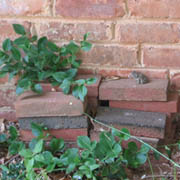 We have a little friend who lives by our air conditioning unit near the spigot outside. It (or another one that looks just like it) was there last year too. I think it likes to stay there because we're in the midst of a drought, and the AC unit forms condensation, so it can get some moisture there. Plus those bricks make a great hidey hole, and since it's under the overhang, it can stay in the shade for the warmest half of the day. Steve pointed the toad out yesterday, so today I took Emily out to see it. We got the ground just a little bit damp near where it is as an act of kindness, although for all I know it likes the dust. Good luck, little toad!


I hopped up the road to Davidson to visit The Needlecraft Center and found the owner, Elaine, literally on her way out the door to market. She's going to investigate getting some Blue Moon Fiber Arts stock for her store, including Socks that Rock. The nice thing about The Needlecraft Center is that the staff are all very experienced knitters, so they know quality when they see it. I showed her my Tofutsies socks (okay, sock and a half) since she hadn't seen that yarn and was interested. The Needlecraft Center carries Jojoland brand in several varieties, including cashmere and laceweight, with truly beautiful store samples knit up. I resisted temptation, as I have way too many projects already in line, both paid and unpaid.
Speaking of going to market, I need to hit the grocery store, as we are out of several staples. The following jingle from my childhood is stuck in my head, and so now I share it with you. Enjoy it before it gets yanked for copyright infringement.