Next time we're on Beaumonde, let's hit the Maidenhead bar! I'm buying!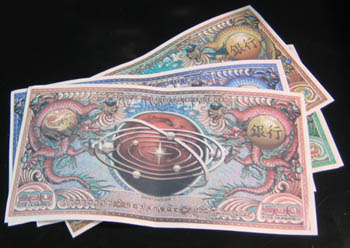 This is Firefly money, a reproduction of what was shown in Serenity. It was a very kind and unexpected gift from a Jayne hat recipient. He e-mailed me to say that the little Blue Sun stickers which I stick in with the hats – not advertised on the website, because I do like little surprises – were a big hit with him and the missus. He asked if he could purchase a few more from me. He seemed like a very nice guy, so I went ahead and mailed him some, no charge. And he sent that cash back to me!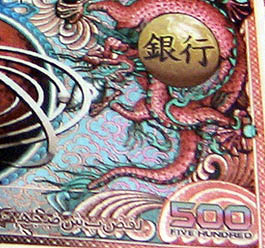 Please note, all blurriness is me not holding my camera steadily enough. This stuff looks fantastic. The paper has a great feel, and the graphics are very crisp. It lives right next to the spot I keep all incoming Jayne hat checks. Did I squeal like a gigantic fangirl when it arrived? You bet! I only hope it's not a felony to reproduce the money – I don't need that kind of trouble with the Alliance.
I hear Mr. Nice Guy is on LJ, so here's the shoutout:
Thanks, , you made my day!