We got new windows in our home a couple of weeks ago. The new ones are double-paned, well-sealed, and generally much more weathertight than our previous wooden single-paned ones which came with the house forty years ago. Well, apparently the old ones had been providing an avenue for ladybugs to get in and lay their eggs. While looking out at the snow, I've found about 16 ladybugs on the south-facing windows of our house this weekend. They were on the inside, crawling up, trying to get out. Given the snow and ice, it's probably just as well they couldn't.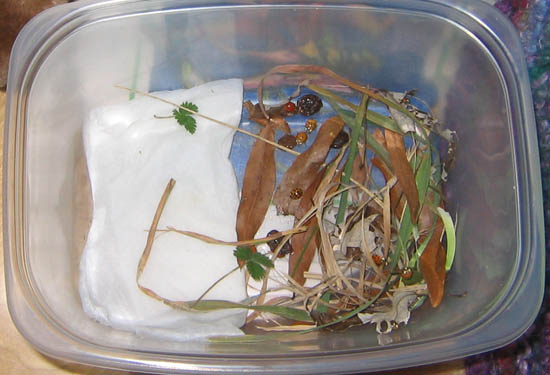 After looking on the internet (thank you, Ladybug lady!), I found out that they'd be just fine inside for a while with the right conditions. So now they're in a plastic container with holes punched in the top, a moist paper towel (apparently they die inside of dehydration instead of starvation) and a few raisins, which they seem to enjoy greatly. Oh, and there's some tufts of grass in there for good feng shui. At right is a pic for the curious.
We think we'll take it to my daughter's kindergarten class tomorrow, assuming school's in. Quite the little science project!