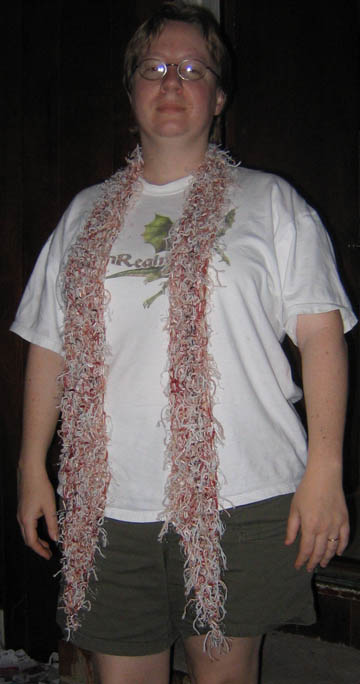 Sometimes, the best thing you can do when you're down in the dumps, or when you have fifty bazillion unfinished projects going on, is to make something cool. And so, I did!
When I was in St. Louis, I stopped by a yarn store (of course) and picked up some Crystal Palace Waikiki color 2852 and Squiggle in "shell". I started a scarf, and kept it in the car seat beside me to work on when I got stuck in traffic. I finally decided I just needed to finish it, already. Here's the result on. Here's one a little closer up, and here's the UNNECESSARY ZOOOOOOOM!
Ahem. Sorry.
I really enjoyed this! That Squiggle is fun stuff, nice and soft and shaggy and… well, squiggly. If they harvested Tribbles for their fur, this is what the result would be. (Actually, maybe they do.) I like the little poofs the yarn has, and the bit of shine that the Waikiki imparts. The scarf may have a little of that 70's shag carpet tone to it, but who cares? It was fun, and I'd definitely make another Squiggle scarf in a heartbeat.
And now, on to those fifty bazillion unfinished projects!